Whose side is Mercury on? 🎭
Plus a sneak peak at April ☔
Let it be recorded that on the 28th day of the month of March in the year of our Lord 2019, at 9:59 ante meridiem in the Eastern Standard time zone that Mercury, god of tricks and never shutting the fuck up, while residing in Pisces, the sign of bondage, sorrows, profound spiritual truths, and delusions writ large, has stationed direct after three long weeks of retrograded movement that felt like one whole year.
So many people told me this was the worst period of Mercury retrograde they ever suffered. The Pisces element dissolved the confusion and frustration into tears, and if you follow me on Instagram @kiki.okay, you may remember this gem from my stories.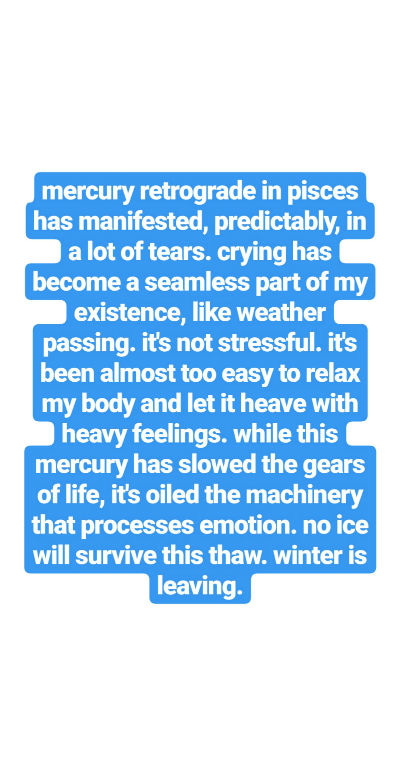 Despite crying a lot, I escaped relatively unscathed. (Mostly, I went through a major lipstick phase.) But the Worm Moon in Libra was all-around horrible (work, love, friends, money, everything), which makes me a little scared about April's full moon, because it too is in Libra. Libra is ALLEGEDLY a friendly Venusian sign, but it also has coldness and volatility baked into its DNA.
⚖ It's also the only sign represented by an inorganic object. Nothing is colder than these here scales. ⚖
---
Some notes on April… ☔
Begins without ANY retrogrades, so that new moon in Aries on the 5th is extra powerful for starting something you want to work out long term.

Then three planets, Jupiter, Saturn and Pluto, will go retrograde and ruin our little hot streak:

Jupiter gives us good luck, so we'll need to make our own until August 11th.

Saturn provides structure, so we'll be reevaluating the architecture of our lives (homes, routines, career, what time we wake up in the morning, if we really can meet all our deadlines, what are we doing with our bodies, etc.).

Pluto imbues us with intensity and purpose, so we'll have to peel back the layers of our own desires because we may have secret motives even we didn't know about.

Second Libra full moon in a row after the Worm Moon—which Susan Miller said was benevolent, but was actually so horrible for me and most of the people around me. (But not because of me!)

Taurus season on the 20th! ♉🎉 I just got a candle that smells like a fireplace and more lipstick than anyone needs! Taurus is about the intersection of cozy + glamour, and who among us is not ready for that?